It is officially 148 days until Christmas friends :)!!!!!!!!
I absolutly positively can not wait until Christmas this year; spending it with my lil sweets is going to be the BEST ever :)!! Christmas is my fav. time of the year, although fall comes in a close second. I have been spying Christmas decor at Hobby Lobby and could not be happier to see the isles trimmed with trees, ornaments, and decor of the like. Although, it does stress me out just a wee bit as I feel like I have so much to do before the season arrives.
Anyhoo, if you haven't stopped by
Tip Junkies Christmas in July
you MUST! It is chalk full of ideas to get you ramped up about the Christmas season...the one that is only just a few short months away ;). There are so many craft ideas, gift ideas, decorating ideas, and more that you will leave inspired to start creating and counting the days until the holiday season too. I'm honored that
Tip Junkie
shared my Christmas countdown calendar that I created a few years back- you can find it
Here
and you find other advent style's and inspiration
Here
.
I am seriously so giddy with excitement for Christmas and fall this year. In fact, I'm already thinking up some ideas for hosting a cookie exchange with my girlfriends as well as a cookie decorating party with all the kiddos...Do you have any ideas?
Well, make sure to go visit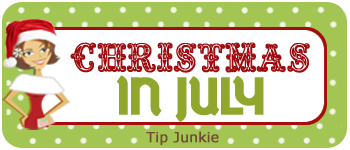 And go now, it is the last day to enter for tons of fabulous prizes :)